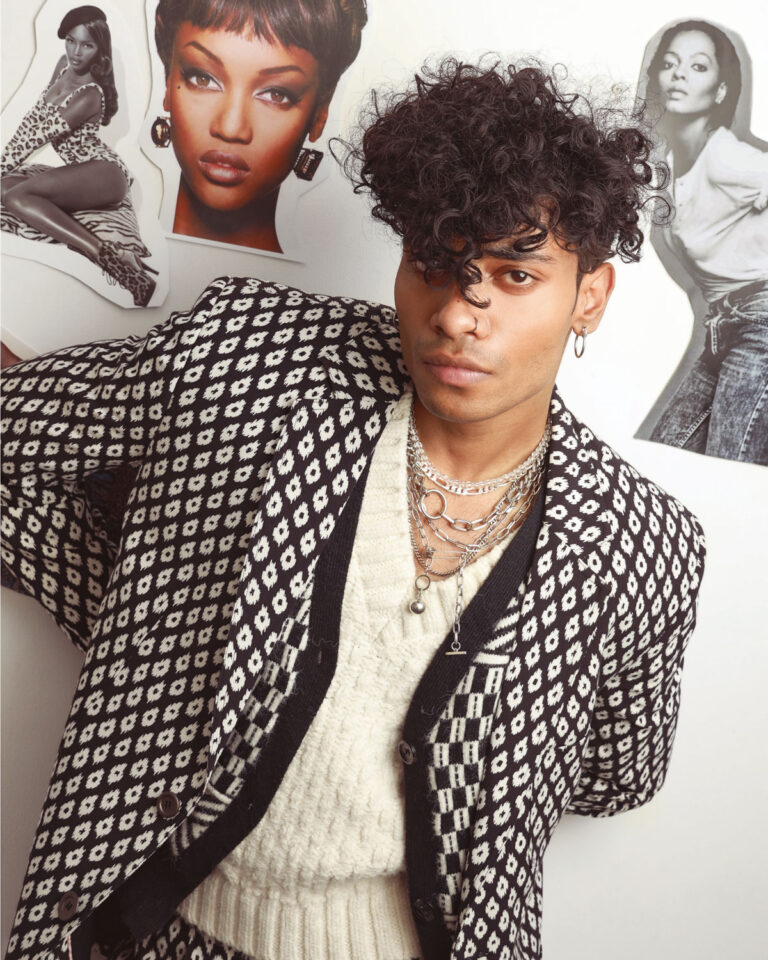 Who inspires your style and how would you define your style identity
My style is androgynous. I don't like to be limited under the 'male or female' tags when it comes to personalizing my outfits, my style is fluid, it's experimental. I am deeply inspired by Prince, Michael Jackson, André 3000, David Bowie, Jimi Hendrix, Siouxsie Sioux, the list goes on.


Your style is very 70s inspired, what about that decade are we missing today? 
When androgyny was on the complete forefront and you had every right to look as hilarious as you want to without owing anyone an explanation. People of all races and different sexualities all looking like a million dollars would basically unite to party under the bright lights and a disco ball, that was the 70s. Glam rock was a new thing back in the 70s and as the name suggests, it was glittery, unsettling, and very rock and roll with artists dressing up like genderless alien rockstars. Punk broke out in the seventies and it literally screamed anti-establishment and everything that was wrong with the political world in its face. I think we're missing a lot of self-expression today, really. Everyone wants to be categorized but rarely wanna stand out.

What part of sub-culture is your style inspired by?
I love the 70s disco scene, I have a thing for flares, crazy silhouettes, and all the outlandish things that decade came with. I also resonate with 80s goth culture and everything it stood up for. People automatically assume it's just vampires and people dressed in black with heavy makeup when they hear the word goth, but it's so much more, this term 'gothic' was used to describe horror literature, and its true essence got captured in the music because it spoke in a different language. Despite being birthed by punk rock, it was less harsh and more personal, and introverted. It was about falling for the doom, finding beauty in the damned and it reflected in the style too.
What do you do and your parents think of your choice of career?
Ever since high school, all I wanted to do was draw on people when I figured it's so much more than just the fads and came across the work of OG artists like Paul Booth and Filip Leu. My parents had a hard time accepting it as a real job at first but then they came to terms with it.


How does tattoo and fashion co-relate?
I've seen countless collections that basically draw inspiration straight from different tattoo styles, it can either be old school Americana flashes or traditional Japanese tattoo style. Look at Ed Hardy. People don't realize this brand is not just t-shirts with tattoo designs over them but arguably the greatest tattoo artist ever, Don Ed Hardy. I think tattoos and fashion always went hand in hand, it's just people are catching up to it now as we're starting to embrace this art form in more ways than one.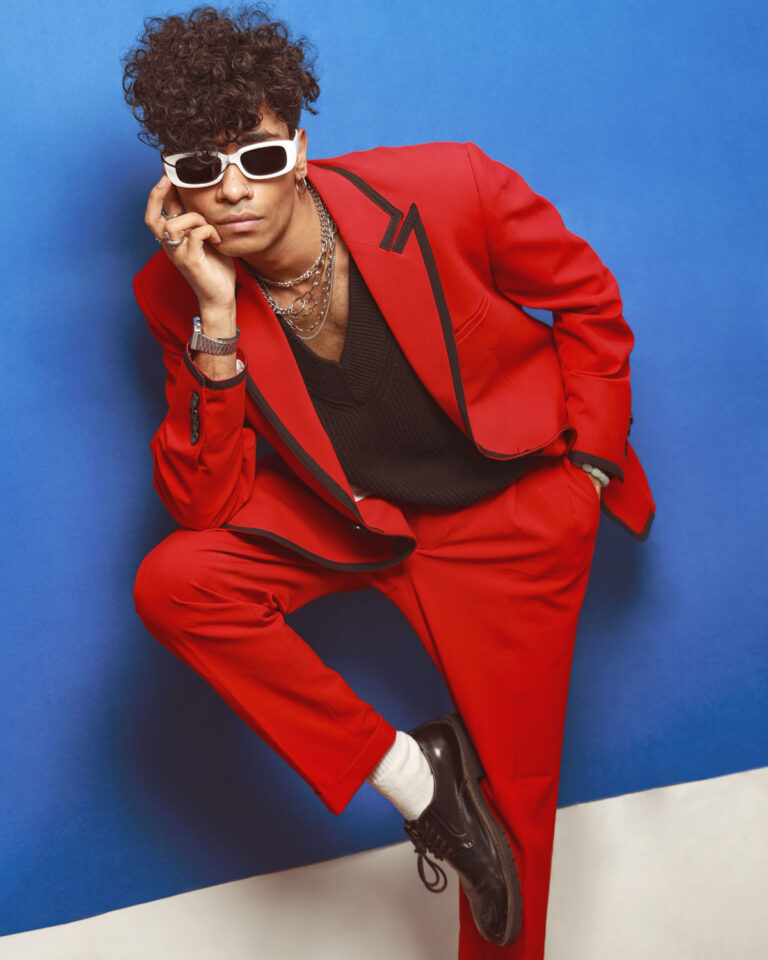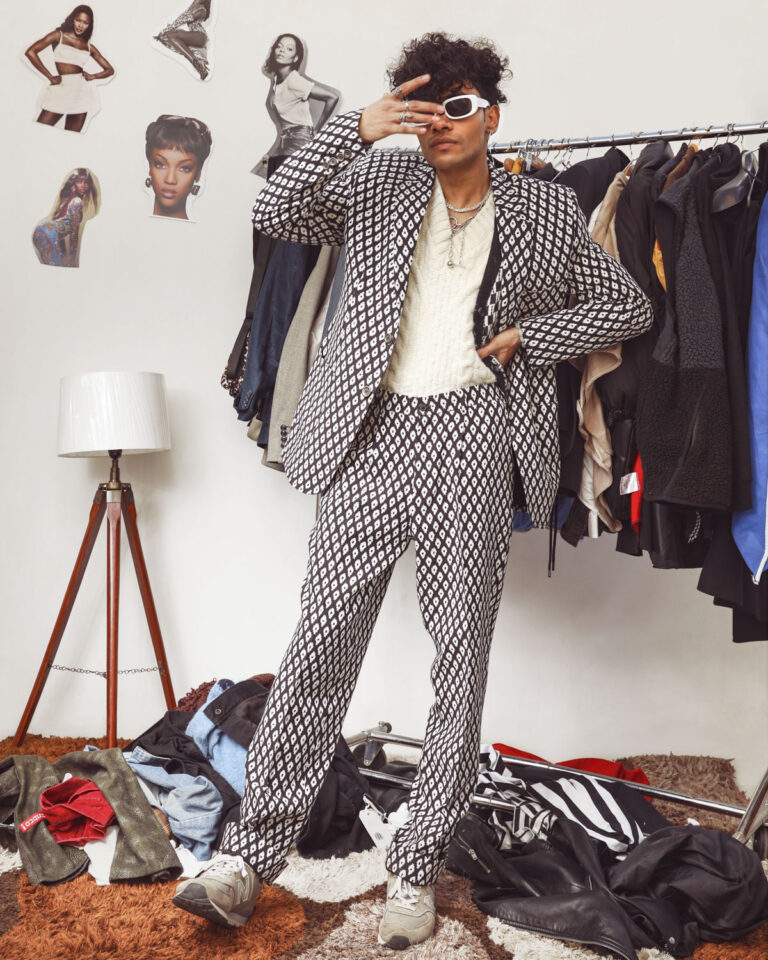 Where do you like to shop from?
I thrift. I thrift a lot. Almost everything I own is either thrifted or has been passed around to me. AND ITS SUSTAINABLE and I like it that way.

Tell us about your quirky and colorful Vans collection? 
I just really love Vans old skools a lot since they're mad comfortable and simply go with everything. The ones I own, they're mostly from the limited runs. I mean Vans does a lot of collaborations but almost none of them are made available to us so that's a bummer.

How important is it to have a personal style for a tattoo artist or any professional? 
I think as they can be stereotyped easily, personal style is somewhat essential to every artist. I know it is a cliché but you are you what wear. You feel like an outsider when you're around others? That's cool, just embrace it to the fullest. Run with it.
n terms of the tattoo culture in India, what changes would you like to see? 
I'd love to see people respecting it more, you take it to your grave, so it's worth respect and appreciation as an art form. I think now people are starting to be more invested with it, I see so many artists here on IG, starting to tattoo with their stick and poke kit. I think it's going towards a good place….oh and sexism is still quite heavy here in the Tattoo industry, that can go too.
On a lighter note, name three trends that you would like to see come back from the 70s?
1. Chokers, most definitely! All the coolest people back then were rocking chokers. from Jimi Page to Cher. EVERYONE.
2. FLARES. They just look better.
3. BRING DISCO BACK. BRING DISCO BALL BACK.


What are your hopes for 2021? 
To start my career as a tattoo artist, be completely self-dependent, move out to a new place, get a few more tattoos and piercings hopefully.