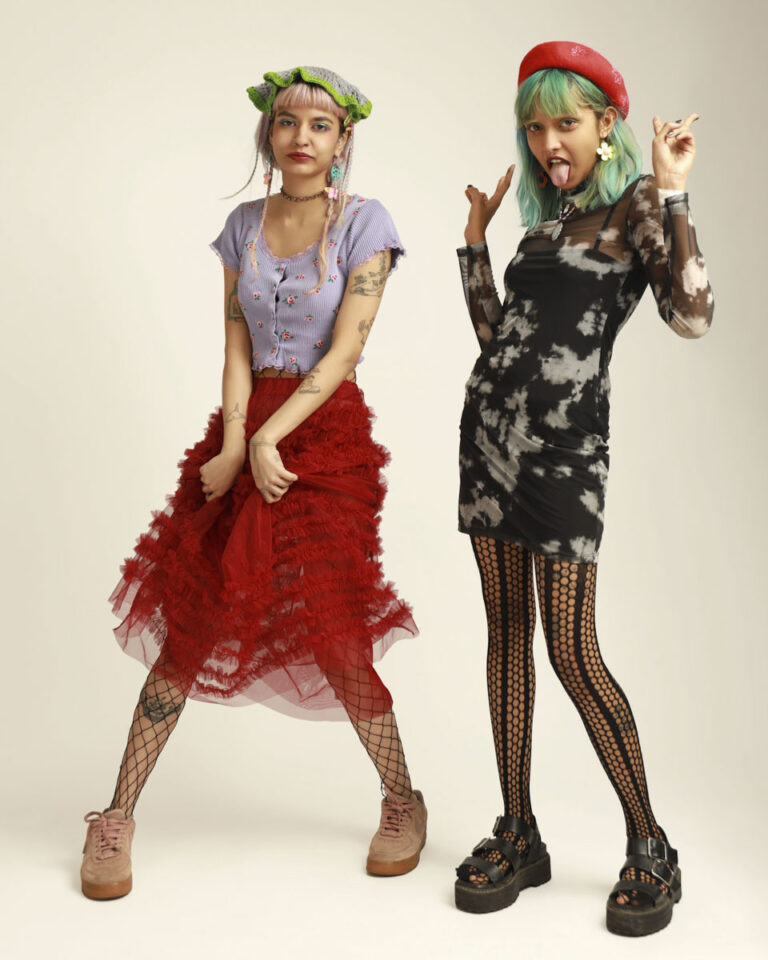 Tell us about Katoshi studio
"Katoshi is a queer-run independent tattoo studio in Delhi. We opened this space as we are both tattoo artists and wanted to create a space where we could both come and tattoo out of, host other artists, and have more community experiences. We strive to be an inclusive and welcoming space where people feel good." @yoshi.headlesss , 25, Tattoo Artist. 
"We are best friends who have similar artistic interests so it's been easy collaborating on different projects. The studio is not just a space for tattooing but for us to be able to explore our creative expression in different forms. We both like to work with multiple mediums and want to keep creating and experimenting and this is our space to do that." @___katyani___ , 25, Tattoo Artist. 


How is it working with your best friend?
Katyani: It's mostly great but not all flowery. It has put pressure on our friendship but we have been able to navigate it well and worked through it together. Strong boundaries and mutual respect go a long way. 
How did you get into tattooing?
Yoshi: I was always artistic and drawing all the time since forever. In college, I stumbled upon tattooing and found it really fascinating. I learned handpoking mostly by looking at videos on youtube, watching other tattoo artists' work, and practicing on myself and some friends and I quickly fell in love with the art.  
Katyani: I started tattooing myself and my friends just for fun and then realized it can be a career where I can continue to grow my art while also being financially stable. Then I got an apprenticeship under Mo Naga to better understand the practice. 
How long have you been tattooing and at what point did you take it professionally? Is it an expensive career to choose, at least to start with? 
Yoshi: I have been tattooing for 3 ish years, after a lot of practice on myself and my guinea friends. When I thought I was good enough to earn money from it I took it up professionally, this was 2019. It can be an expensive art, tattooing with a machine requires expensive supplies, like cables and tubes ones, have some trouble sourcing spontaneously. Handpoking seems to circumvent those requirements.  
Katyani: I have been tattooing since 2016 but professionally since 2018. I am lucky enough that tattooing as a hobby was accessible to me when I started. Tattoo practice is prevalent across the country so if not looked at from a commercial lens it is not so expensive. I'm talking about not having professional supplies or the most hygienic conditions. I'm not encouraging this but I can't deny that in India there are so many different people practicing tattooing from different parts of society that I cannot judge. There are high-priced studios but also roadside tattooers so I cannot answer without context in this case.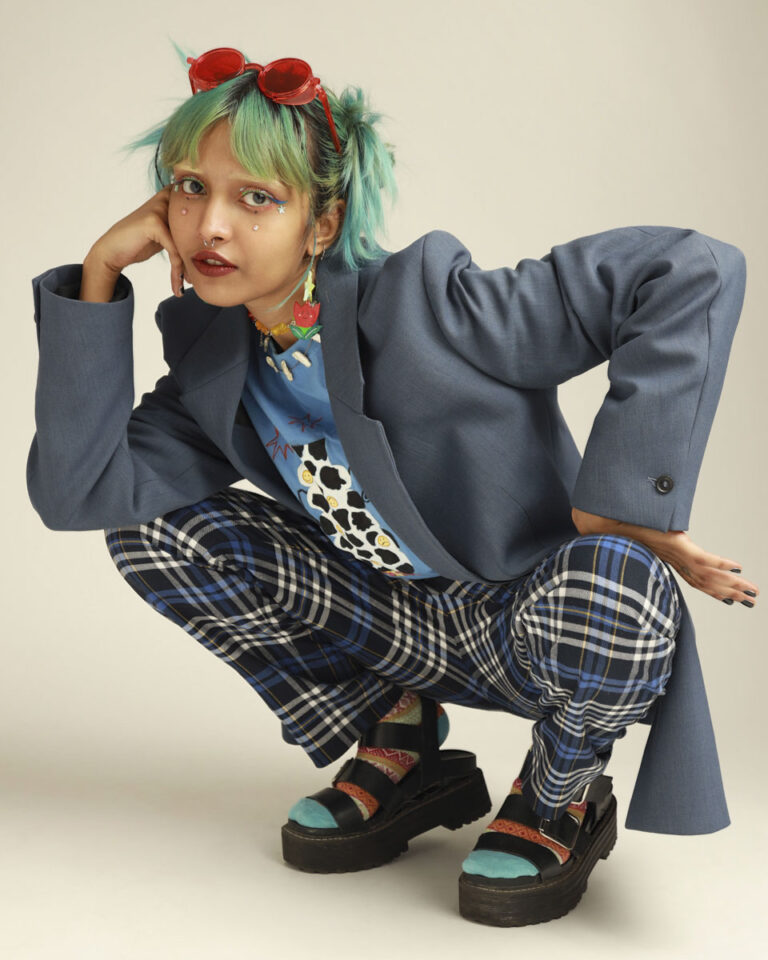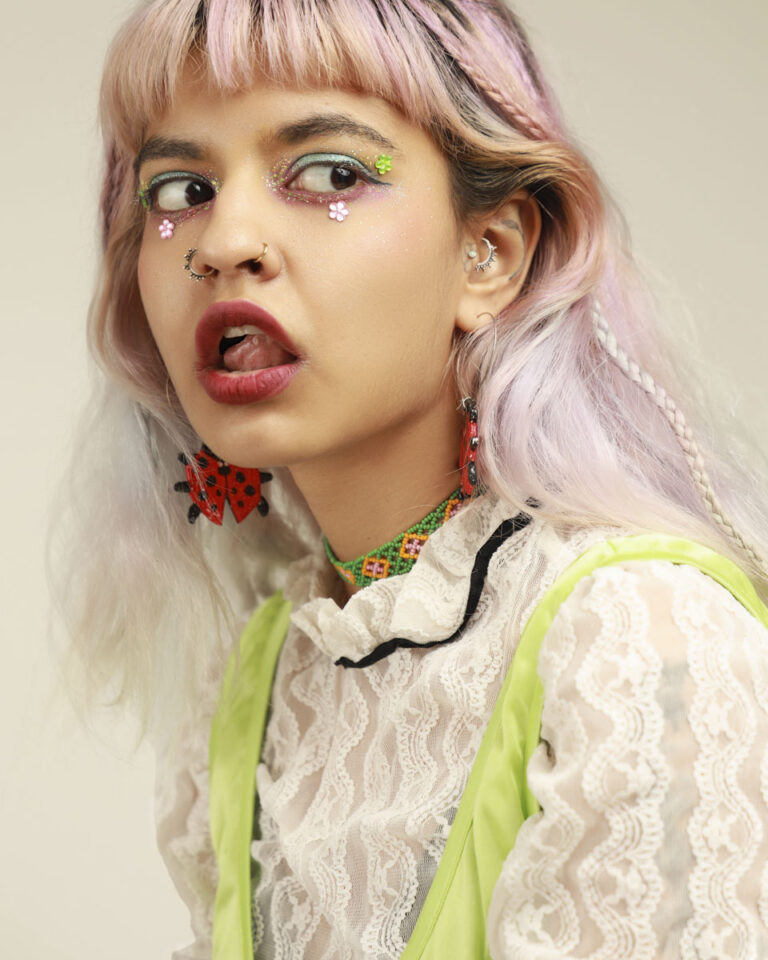 Who inspires you? 
Yoshi: I've always been heavily inspired by my surroundings. Whether it's the space I'm in or the people I'm around, I'm constantly searching for inspiration. nature, objects, and colors have a strong influence on my art, and I admire artists who find inspiration in the same places.  
Katyani: Mo Naga. 

What is your advice for young aspiring tattoo artists in India?
Katyani: Just start tattooing yourself and your friends. Don't worry about skill, it comes with practice so don't let anyone discourage you. Focus on your growth as an artist overall and not just a tattooer. Find your own strange style. 
What part of your body would you never get tattoed, why? 
Yoshi: I would get one everywhere, I wouldn't want to leave any part out! but maybe I'd never get an under feet tat cus I'd simply never remember to. Yoshi
Katyani: Tongue. I just don't see the point. Katyani 

How many tattoos do you have?
Yoshi: I have 21 ish tattoos in total and they're not all well hydrated.  
Katyani: I haven't counted. Also, some are big and some are like 3 tiny ones so it's hard to count.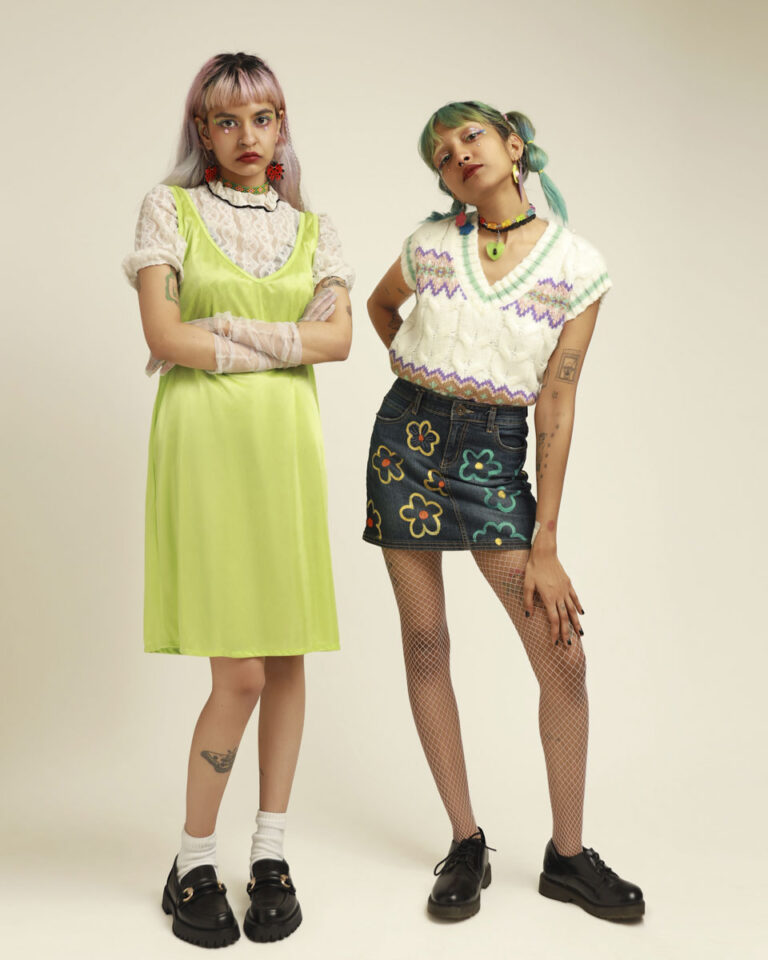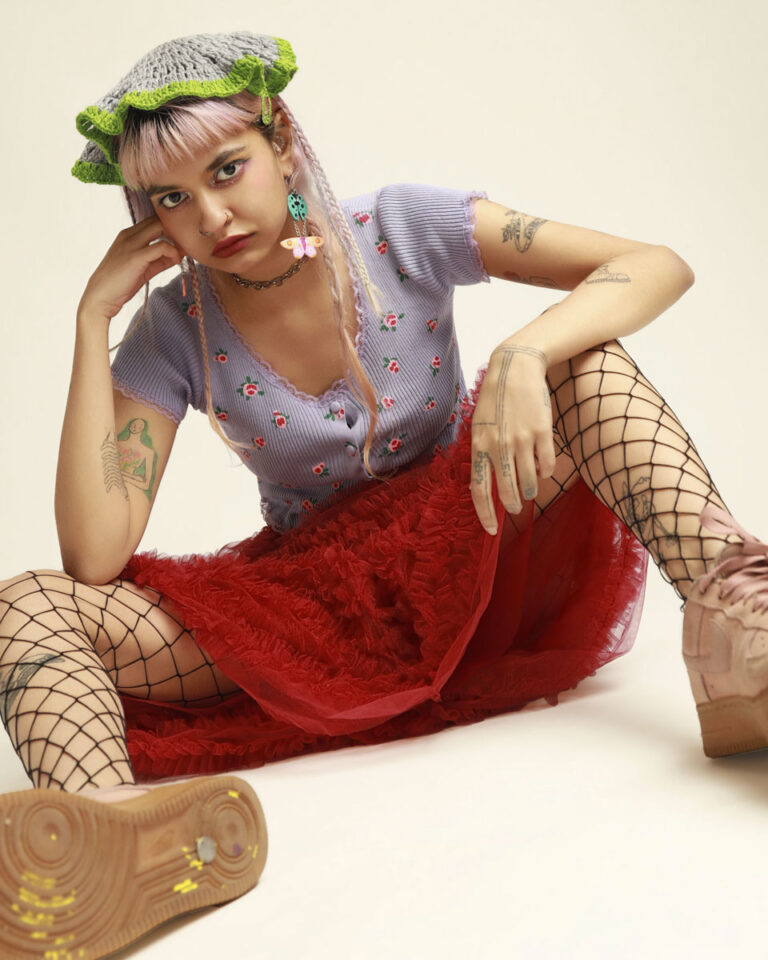 What are your goals for 2022?
Yoshi: To bring plants into the studio and make it greener.  
Katyani: I would like to be able to balance work and travel life because I feel like tattooing and painting are jobs that can be done from anywhere. 
What do your parents think of your career choice?
Yoshi: My mum is not a great fan of tattoos but she's supportive of my practice. like she doesn't mind me giving other people tattoos but will freak out if i get one on myself.  
Katyani: As long as I'm earning, they are happy but they still disapprove of every new tattoo on me. They can't really say much once it's done. 

Who would you like to ink? My mother. 
Define your personal style?
Yoshi: I think I bring similar energy to the act of DIYing clothing as I do to the creation of an artwork. I love getting into that flow state where you put on some music and just try stuff out! I also truly enjoy recycling and giving something a new life, whether that be an interesting hunk of metal from the trash or an old skirt I can paint flowers on. I love the potential in it all, the love you can feel for the creativity, the play, the improvising… there is nothing like walking into the grocery store in an outfit you just DIYed and feeling like damn, this is cool. it's all about the energy.  
Katyani: Urban trash with plants.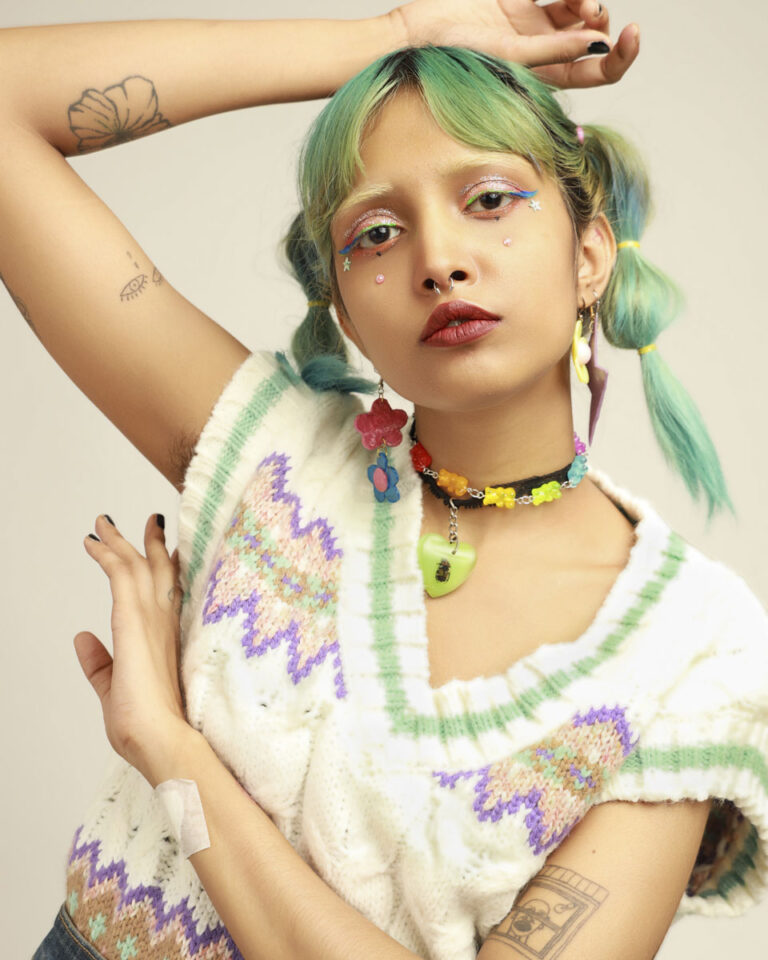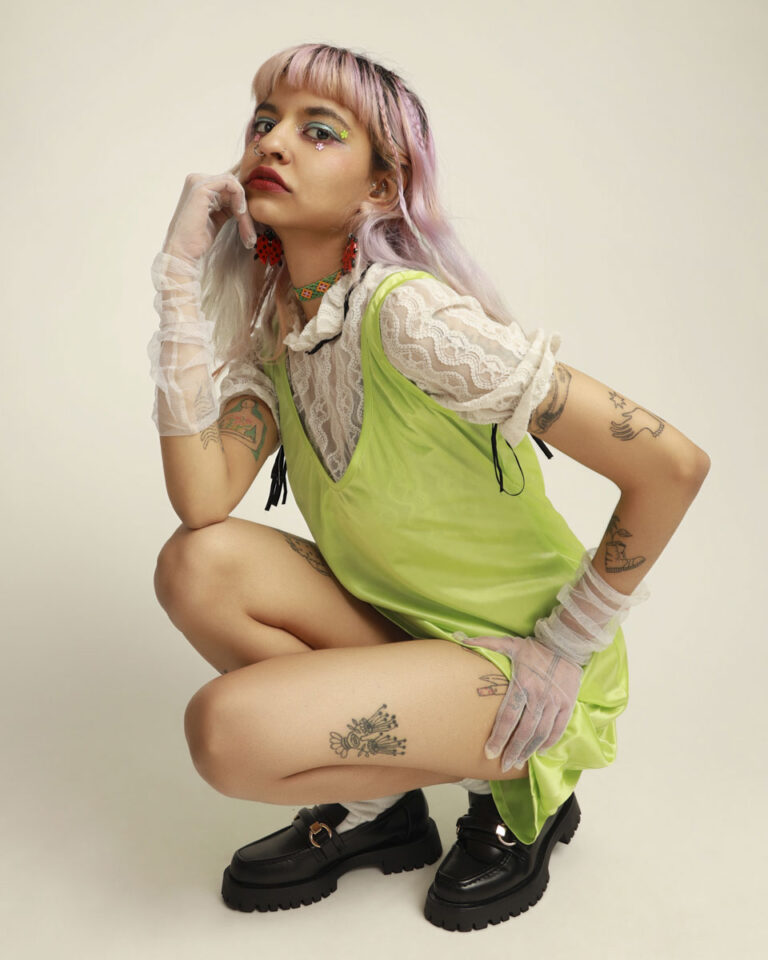 What part of pop culture inspires your fashion?
Yoshi: Movies and fictional characters. I think every time I watch a movie and I really like a character with a strange in-a-cool-way fashion I try to make looks around their aesthetic. like, when I watched chunking express adored Faye, she's a 90s girl, in fun T-shirts with big pants, oversized shirts with long skirts, and white-rimmed sunglasses and I really like her chaotic but fun energy, I would dress up like her for days.  
Katyani: Everything I consume probably ends up as part of my work. 
How did the two of you meet and what has made your partnership work?
Yoshi: We first met at a rave randomly, we stuck together the whole night and somehow kept in touch. when I met katyani i thought she was the coolest person ever and after getting to know her she's also the most creative and kindest. we've spent a lot of time talking shite and making art together and getting to know each other deeply. what has made this partnership work is the love and understanding we share.  
Katyani: We met in a women's washroom and had the same colored hair. It was all downhill from there. Just kidding, it's not anything specific, I'm just lucky to have found someone who sees so many things the same way as me. We try to grow together as much as possible but also don't limit each other's individual paths. 

How can our readers get in touch with you guys for a tattoo appointment:
Yoshi: To get an appointment you can DM me @yoshi.headlesss, if you want a cute tat let's chat :o)  
Katyani: Instagram or email.