Streetwear supply had, almost exclusively, been dominated by US, UK, and Japanese brands. As much as the 'hype culture' has increased the demand for the already popular streetwear brands, it has also helped in the exponential growth of the overall streetwear market and has indirectly contributed to the birth of new streetwear labels globally. This rise of new streetwear labels has especially been significant in East-Asian markets such as Hong Kong, China, South Korea, Indonesia, and even Thailand with brands such as @ader_error, @sankuanz_official, @paradiseyouthclub, etc. gaining a cult-like following. For some customers in these markets, the idea to stand out, where everyone else wears the same thing, maybe a significant drive to adopt a new streetwear brand. For some, the new creatives, talent, affordability, and the high quality of the new brands may be too much to pass on. And for some, the idea to own and promote a domestic fashion label may be inspiring.
Over a couple of years, India has also seen the birth of streetwear labels, each with distinct aesthetics, design inspiration and story. While @jaywalking.in is the extension of the mood and personality of its designer with oversized silhouettes and bold graphics, @selfishindia defines its visual identity as muted, minimalist and versatile. @spacebiskit's last collection was inspired by India's propulsion into the space-race, @Delhiwear's Vardi collection was inspired by how the designers as kids wore kurtas and Jordans regularly.
However, the Indian streetwear market is nowhere comparable to the more mature markets of other Asian countries that created an environment for new streetwear brands to grow. Neither is the size of the Indian streetwear market comparable to sustain numerous brands at the same time nor do we have comparable access to the 'hyped' brands to get bored of and look for alternatives. On the other hand, the Indian fashion market is projected to grow significantly, and the streetwear market in India is still untapped. In this environment of opportunities and challenges, we speak to new emerging Indian streetwear labels about their brand identity and inspirations, what drives them and what the future holds. Featuring Indian streetwear brands: JAYWALKING, SIX5SIXSTREET, SPACEBISKIT, ALMOST GODS, VEGNONVEG AND DELHIWEAR
Models: @ikisvon_j, @srish_yadav, @jharna_das, @bharatnegii, @architgautamofficial, @reettalwar, @amehhaa, @aditeeeaaaaaa, @niharika7_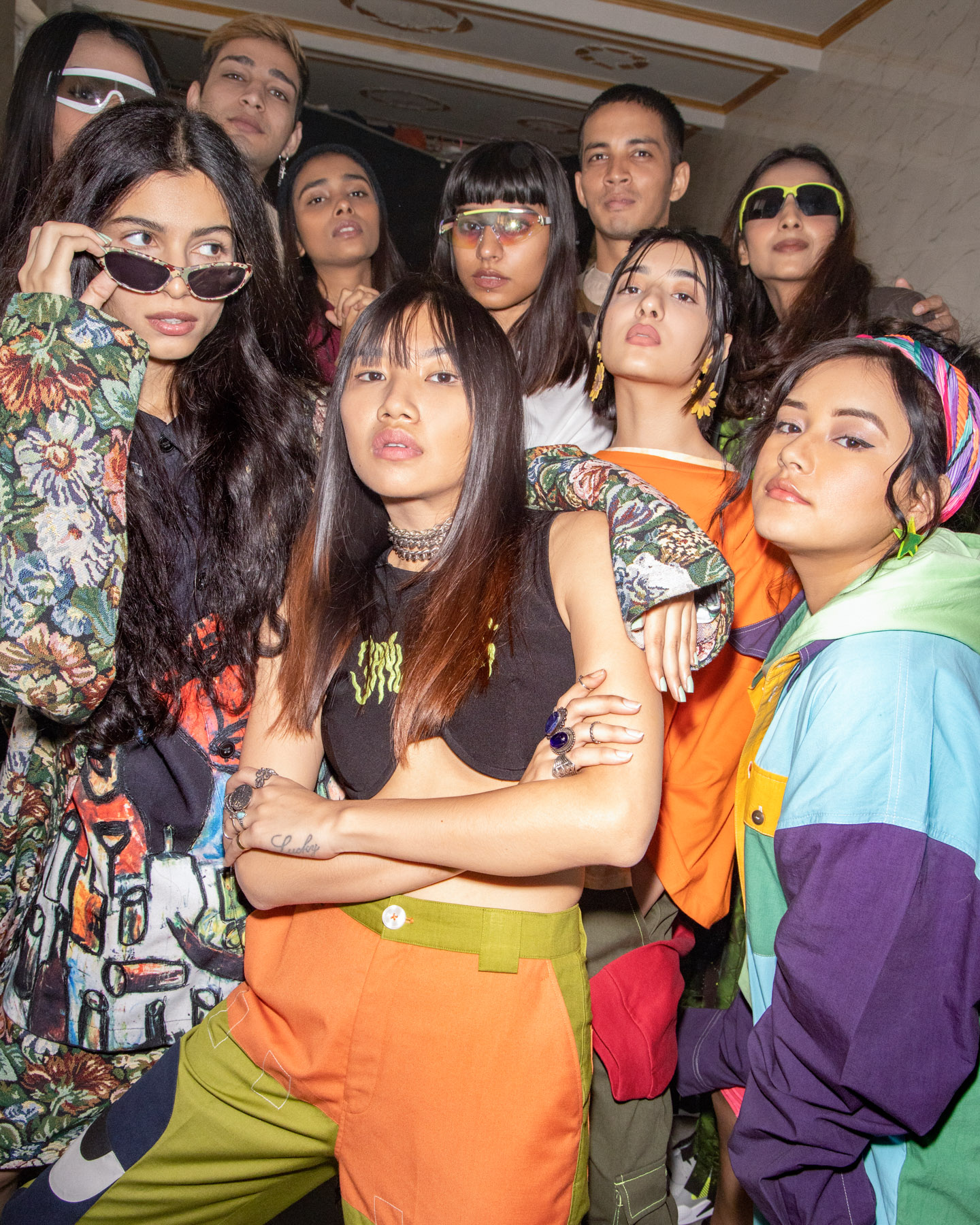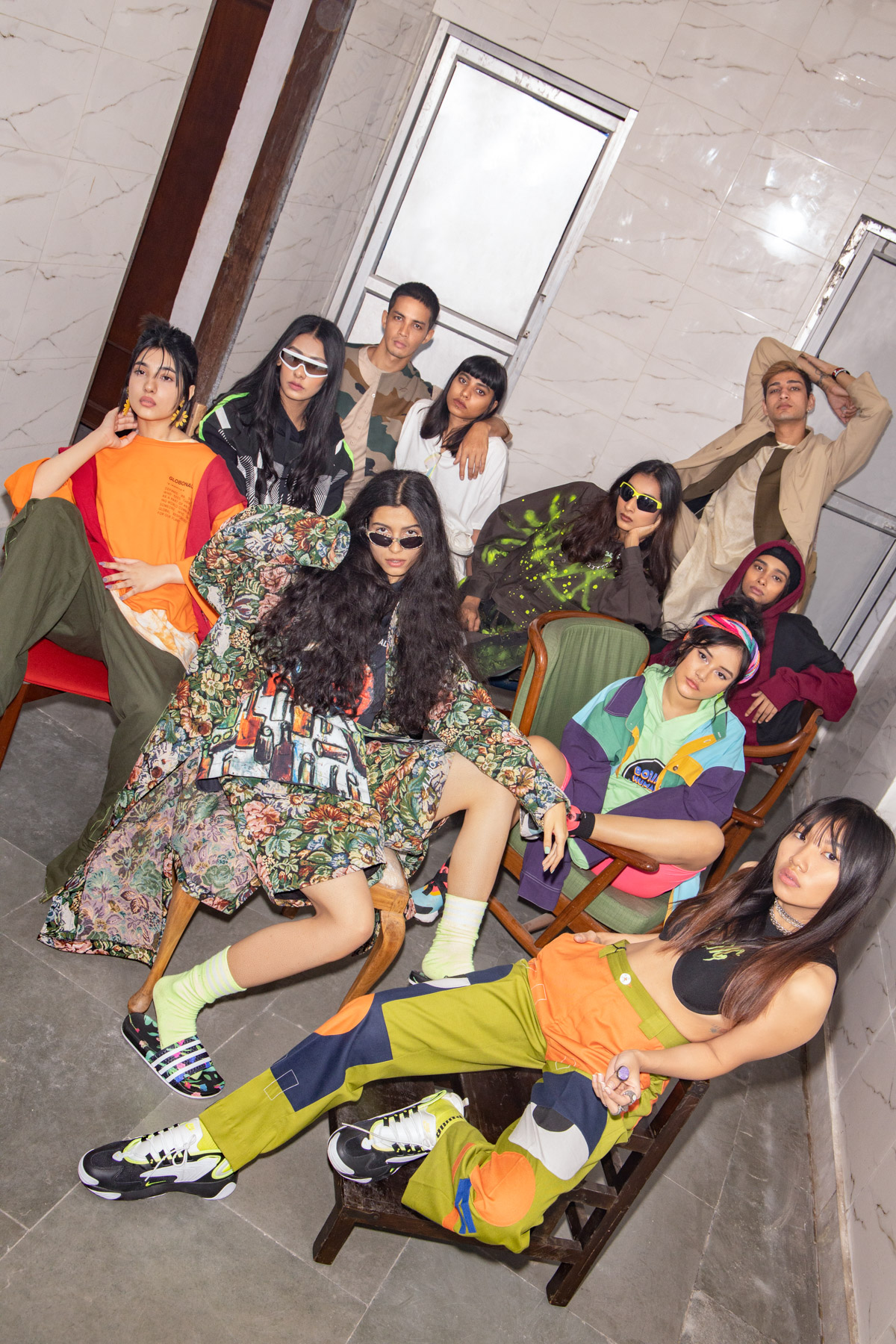 Q: How would you define the visual identity of your products?
ALMOST GODS: Almost Gods is most definitely a maximalist brand; a rebellion to the minimal base-hues inspired designs that are crowding the market. We use loud and soft graphics, monochromatic and unmissable colors and a variety of workmanship ranging from handmade zardozi to lenticular printings- addressing each piece as a standalone work and using the right mix of elements that we believe will most effectively and uniquely communicate the intended message of the piece to the wearer and the world around them. All consequent individual ideas ranging from work to work are based on the central premise of Almost Gods, which is that self-expression isn't just a necessary thing but rather a source of happiness and positive energy that should be shared and celebrated.
DELHIWEAR: The visual Identity for Dehiwear has stayed very minimal so far in comparison to heavy graphic details or adding a lot of elements. We have been focused on showcasing little details and functionality of our products and how it can actually add value to the consumer in real life, from the copyrighting to the creatives we go forward on our social media platforms are all based on one simple formula which is to make a connection with the audience and integrate it with what we are offering to them.
SELFISH: Muted and dark tones that are easy to wear, with an occasional pop of color. Versatile. Minimal, yet detailed. The silhouettes are structured, yet free-flowing.
JAYWALKING: I really don't know honestly. It is obvious that I use a lot of oversized and structured, utility silhouettes. But I wake up every day in a different mood, with a new idea and I just do that. I can tell you 1 color that I haven't used so far, WHITE!! It just gets dirty, loses freshness pretty fast and looks new only the first time you wear it.
VEGNONVEG: The VegNonVeg apparel line is influenced by our experiences as a brand. Seeing the sneaker culture grow in India. We take immense pride when we notice young Indians wearing kicks on the streets today. But with streetwear, Indians have been looking to International brands for a long time and we want to change that. We want to cater to this hunger for self-expression and the best-oversized tee.
Bharat and Ikis in VEGNONVEGSPACE BISKIT: Our biggest influences come from New York, where the roots of our label originate, and India, where we are from. The idea with BISKIT was to merge these two worlds in search of a new aesthetic and an expanded vocabulary to dwell into contemporary culture. For example, our first collection takes inspiration from India's recent propulsion into the frontier of the space-race as a starting point to explore the concept of space. It uses various elements from India's space history to build a visual narrative spanning across a series of classic silhouettes and multi-functional bags that combine hidden and functional elements with concept-based based prints to reflect the mood of outer space.
SIX5SIXSTREET: The visual identity of our products comes from the real world. It is a direct response to the current culture, relevant topics and we present it in the most relatable way we can think of. We use a lot of wordplays, millennial catchphrases, and provocative words. Although black and white is a staple and we can't do without it, we don't shy away from colors. We're very graphic/print and embroidery heavy and try to keep all our fits loose in order to be as unisex as possible. We go by a concept and ideate its design. Whatever we feel is the right thing to do, we do it in terms of colors, fit, patterns and fabrics.
Q. Who do you consider as your primary customer base?
ALMOST GODS: People who are fans of themselves are fans of Almost Gods.
DELHIWEAR: To quantify it in demo and marketing structure – 18-34 and now growing on both ends. On the qualitative side, since the nature of products comes from more than cliche streetwear aesthetic, we can serve more people than we want to.
SELFISH: Although SELFISH is based on introversion and the positives thereof, we don't just make clothes for them. Our primary customer base (alongside introverts enthusiasts of high-end fashion and streetwear) is 'Selfish' for self-development, growth, learning, and community.
JAYWALKING: Wealthy people or people who can save up really well.
SPACEBISKIT: Our primary customer base revolves around people who are ready for change and believe in adapting to the world we live in. We are constantly trying to push the boundaries through creative collaboration, experimentation, and forward-thinking and anyone inspired by our message would be our ideal consumer. At the end of the day everyone is looking to belong to a community and we hope that we can inspire those who are part of our tribe to go out into the world and create amazing things!
SIX5SIXSTREET: Customer Base' sounds like a marketing buzzword so we tend to stay away from the term. Our clothes are meant to tell a story, to be relatable to people and to strike conversations. There is no specific age group, gender, economic and social framework yet for people who have purchased from us and continue to do so.
Q. In the current 'Hypebeast Culture' when most streetwear enthusiasts aspire to own the most popular brands such as Supreme, Bape, Stussy, The Hundreds, etc., what made you start your own streetwear label?
SELFISH: We want to put it out there right off the bat, that we aren't ever going to seek validation from hype. Nor do we want to be pigeonholed into the 'streetwear' category just because everyone else is jumping on the bandwagon RIGHT NOW since it is considered "cool". Our designs and aesthetics are inspired from the streets and are a reflection of who we are as people. Our intention was always to make stuff that we mutually love, and to make it damn well.
JAYWALKING: As much as they aspire to buy these brands, they also thrive to be different. I see an opportunity there. People who aren't really 'basic' and always push themselves to newer silhouettes will find me, and we will live happily forever after 🙂
DELHIWEAR: We saw the disconnect in making an easy screen-printed T-shirt (do we need another graphic t-shirt?) Also, the process of making VARDI got us more excited. Because as kids who wore kurtas and Jordans regularly, we had the connect already when we were brainstorming the idea of everything for Delhiwear. The streetwear tag is new to us, we are more than that.
ALMOST GODS: We want to bring that artistic vision that India has instilled in us and take it a step forward by challenging it and mixing it with the world and all the developments in it, truly bringing the elements that matter to us as 21st century Indians to a global conversation.
SIX5SIXSTREET: For us, the logomania wasn't cutting it. People aren't just buying what you're making, they're buying why you make it. We wanted to tell a story with every product line. Not just products!
SPACE BISKIT: We have not really mentioned that we are a streetwear label. Rather than focusing on short-term hype or what genre we fall into, we are more interested in telling a story and exploring concepts through art and design.
Q. Is affordability a factor in designing your products? What is the approximate price range?
ALMOST GODS: At the heart of Almost Gods, there's an insanely powerful idea which we believe should be made available to everyone. We are constantly working to make our energy more approachable to everyone! Almost Gods is accessible to all. We start from ₹800 and go up to ₹57,000.
SIX5SIXSTREET: It's not as much about affordability as it is about creating an inclusive community. With the kind of diversity and talent in the country, we've personally come across a lot of people who wanted to get into streetwear and street culture but have very limited options so we have made some entry-level products, like our more affordable t-shirts. However, there's no compromise on the design. Our t-shirts start from ₹1499, with the hoodies and pants ranging from ₹ 2999-4999 and our heavy winter/puffer jackets go up to ₹10999.
SPACE BISKIT: Yes, to a certain degree. Our T-Shirts are priced around ₹4500, pants start at around ₹9500 and Jackets are around ₹20,000.
JAYWALKING: While I am designing, I just don't think about the amount of time it's going to take to make a particular design, or how much time is it going to take for it to sell. I am ready to wait 2 years for a pant to sell, but I'll sell it for what I think it is worth. People who know the right streetwear or luxury think my stuff is super affordable. It averages to about ₹9000 goes unto infinity. I'll soon be introducing entry-level products for around ₹3500, like t-shirts and shirts, etc.
DELHIWEAR: Very much. We sit on a sweet spot where we can serve to any type of customers with options varying from a t-shirt priced at 999INR to up to a custom canvas jacket which can up to ₹20,000.
VEGNONVEG: Our T-shirt starts from ₹999 and can up to ₹1699/₹1899. Hoodies are usually at ₹2499. Jackets have multiple variants from ₹3499 to 7999/15000 INR. Pants start at ₹2499.
SELFISH: Our products range from ₹1500- ₹8000.
Q. The availability of popular global streetwear brands in India is very limited with no major brand or online stores, and availability only through multi-brand online stores such as Capsul, Homecourt, etc. Do you see it as an opportunity or a limitation?
DELHIWEAR: We see this as an opportunity. Although, the limitation is bigger than the opportunity when it comes to reaching the masses.
SIX5SIXSTREET: It's only a matter of time before these brands become readily available to consumers in India. Streetwear and street culture in India as a whole has really expanded at an incredible rate but we've still only scratched the surface.
SPACE BISKIT: It is certainly a limitation if you are thinking about it from a consumer perspective, but if you are sitting on the other side, it is an interesting time to be a designer. We understand the desire to consume global streetwear brands, but we think there is a new wave of emerging designers, artists and other creative people in India and other alternative markets that we need to shift our focus and ask different questions. The time has come for us to shape our own identity, it is time we create our own culture that originates from here, from us.
SELFISH: We would consider it both an opportunity as well as a limitation. The limitation of access and price points makes the streetwear consumer look at cheaper alternatives from fast fashion brands. Whereas the opportunity of knowledge/desire for good quality products from available avenues shows us that the Indian consumer is slowly becoming a discerning buyer. And it is the latter, that we are counting on being the future of this community.
JAYWALKING: People at @capsul_ Shout out to @bhavishad and @travelintrunk. Coming back to the question, right now I am playing pretty safe, I am just experimenting with designs and techniques, etc. and focusing on laying the foundation of trust and genuineness. Opportunities are endless, no one's taking the big leap in streetwear.
ALMOST GODS: All we are gonna say is something big is coming in 2020.
Q. How helpful are associations and endorsements with artists, musicians, etc.? Do celebs dilute brand identity? How do you find a balance?
ALMOST GODS: We love it! Artists are passionate people pursuing the purest view of creating, expressing and sharing their vision with the world. They embody the most central idea of Almost Gods and they inspire everything we do.
SELFISH: "Associations are helpful as long as it is long term. A one-time airport spotting image would work in the moment and then is buried in the constant flooding of brand/celeb associations. It boils down to the kind of celebrity you associate with. We are very specific about the community that we make our apparel for.
JAYWALKING: It's like viagra, prolly might help you that night, but it isn't the solution. I am someone who believes that Bollywood has nothing to do with streetwear. Musicians in India really dress like musicians which is really funny lol. You know what I mean right?
DELHIWEAR: As long as they're happening organically. Balance comes in automatically when we focus more on getting or increasing our audience and community than just guerrilla marketing. It's a business at the end of the day.
SIX5SIXSTREET: We've stayed away from endorsements because we find them to be limiting in nature. In western countries, celebrities wearing your clothes have a major potential of driving massive sales, the same doesn't hold true in India, yet. Especially in the space that we operate in. Our price range is affordable but not cheap. A lot of them regularly wear our clothes now because they like the clothes we're making. We find a balance by choosing the right opportunities when they come along.
SPACE BISKIT: A successful collaboration leads to a lot of cross-discovery between the two sets of communities. Any iconic brand that you can think of has some sort of association with a personality, the key is to collaborate with people who connect with the brand. Otherwise, it is a publicity stunt and the customers will see right through it.
Q. What are the key challenges that you face as a streetwear brand in India?
SIX5SIXSTREET: The biggest challenge we face is educating consumers about what sets the product apart from any fast-fashion or luxury product. India is a value-conscious market, even though we keep our clothes affordable, we still get a fair share of flak for our pricing. The other challenge is the lack of physical retail space in which we'd be able to tell our brand story. It is something we're working to change.
SPACE BISKIT: The lack of retail stores around the country that share the same vision as BISKIT! We are an art and design concept label, and there aren't that many places where our brand would seamlessly fit.
SELFISH: We focus on making good quality and sturdy products that would last a long time. The Indian consumer at large though is enamored by fast fashion brands and discounts/sales. And to the well-traveled/aware/conscious customer who has multiple options and easy access, the challenge only exists to the point of having them try our products. Post which, we are pretty confident, they will return for more.
JAYWALKING: The biggest challenge is out-sourcing because factories in India aren't really exposed to streetwear, they don't understand the kind of stuff I want to make. I manufacture everything in-house currently. Other than that, I think people/customers don't really have the exposure to the right fashion as well. But I've noticed the second they get accessibility, they are pretty adaptive. The biggest challenge is, we don't have a real culture here. People are adaptive to whatever is happening in the west. If we want to be on the map, we need to have an original, real culture of our own.
ALMOST GODS: We have a lot more opportunities than challenges. We are now working out the best ways in which we can effectively make Almost Gods a central platform that brings in passionate people and then shares that positive energy with a force multiplier with everyone we encounter.