GRAB LIFE BY THE HANDLES
Priyanka Kochhar certainly doesn't fit the stereotype of a masculine, female biker. She does not even fit into the typical 'female model' stereotype of being fragile and sensitive. That is because she is not someone you can stereotype. A trailblazer of sorts, she rides a Ducati Panigale 959, is working on learning to pop a wheelie and knows enough about bike mechanics to make it across the country, with looks smoldering enough to make anyone swoon.
Photographer: Runvijay Paul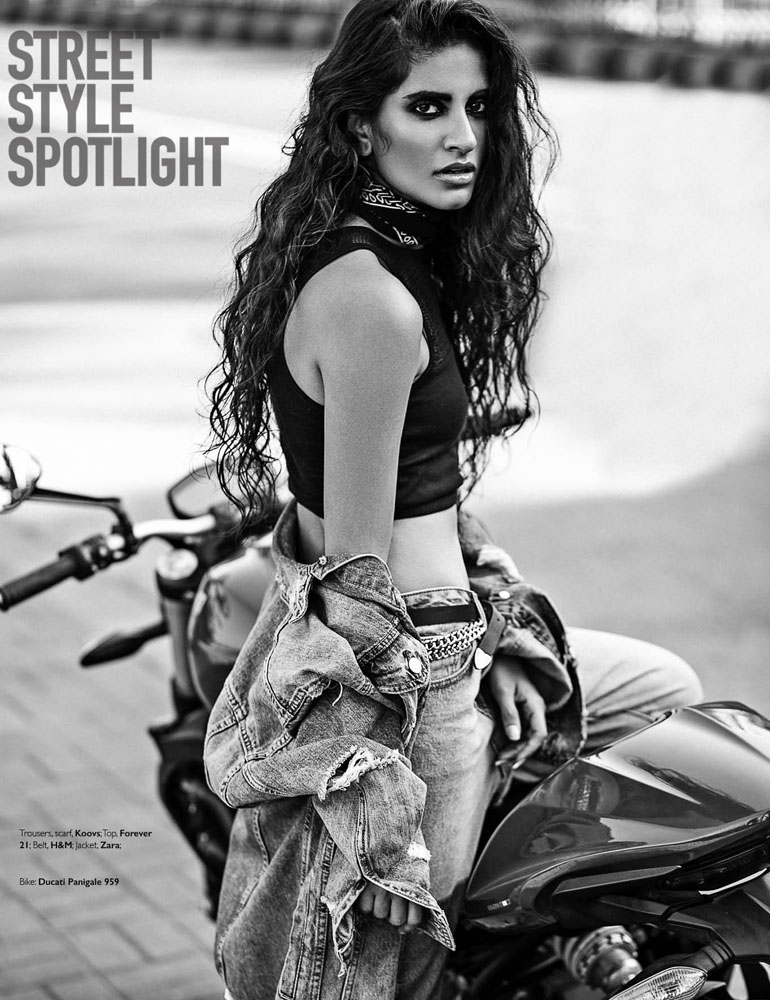 HI PRIYANKA, TELL US A BIT ABOUT YOURSELF I'm a model represented by TFM models in India and by Wilhelmina abroad. I've also recently started a photo blog called @Bikewithgirl. I'm one of the more popular female motorcycle bloggers in India and world over.
WHAT GOT YOU INTERESTED IN BIKES Curiosity and a crappy breakup.
YOUR CHILDHOOD MEMORIES OF BIKES My father ran a car garage 'Sun automobile Co.' Back in the day in Pune, so I've be around cars all through my childhood. But I was always interested in getting under a car hood like all of the mechanics at the garage and figuring what's going on down there.
WORST CRASH EVER I fell 200 feet into a valley after being nudged by a taxi in Tandi on my way to Ladakh. My motorcycle got stuck in the mud up there while I rolled down to the banks of the Beas. The good part is that it was up and running after it was rappelled back up. If that counts for a crash. It was supposed to be the longest ride yet from Delhi to Ladakh (1000+kms). However, I made it only to Jispa because of my crash. Literally a day away 🙁
YOUR BEST BIKE TRIP, MOST MEMORABLE ONE I'd say it has to be my recent trip to Ladakh. I had never ridden more than 350 odd kms at a stretch. I had been invited to ride a newly launched adventure motorcycle, the Royal Enfield Himalayan all the way from Delhi to Ladakh which is 1000 odd kilometers. I was nervous to be riding in a group because I'm more of a solo rider who hates waiting up for people. I ride my own ride. The route we were going to be taking was the famous Raid de Himalaya one which was pretty much an off-road trail. I was also told by almost everybody that along with the weather, the terrain changes almost every 15 minutes. Basically, I went in with a ton of preconceived notions which didn't help. But by day two of the ride, I was completely in awe of the beauty that began to surround me. The more I rode on the road less travelled , the more I wanted to move to Himachal with my motorcycle. One minute it was biting cold and out came the sun burning me up the next minute and the not-so obvious rain always followed to help matters. But there was always my awesome Royal Enfield Rev'it Darcha and the gear that made the unpredictable weather ridable, no matter what. I learnt about different terrains on the same day which I must admit was so challenging but fun at the same time. I got hit by a taxi high up in the mountains and fell straight into a 200 ft valley. I escaped with only 2 broken ribs and a few scratches but it's at times like these when you realize the importance of good gear and a good helmet. The sad part is that I wasn't allowed to go forward when I was only a day away from Leh. The shortage of oxygen in the air up there already makes for difficult breathing and the doctor said I could have a punctured lung because of my broken ribs and that would be very dangerous in high altitude and low oxygen, if I continue to Leh. That was the only bummer in the entire situation. Because frankly, this trip and crash taught me so much and I'll forever be grateful to be living to tell the tale. One piece of advice I have for all my fellow bikers though. Discover your own country, India before wanting to head out. It's got the most spectacular landscapes, people, food, culture and roads! Today, my revs are all wrong, my throttle control and braking is way off and I have lost the ability to feel one with my motorcycle. But every one of my buddies that has crashed tell me that the only way to feel normal again is by riding it out. So I wait to be able to ride with my natural talent again.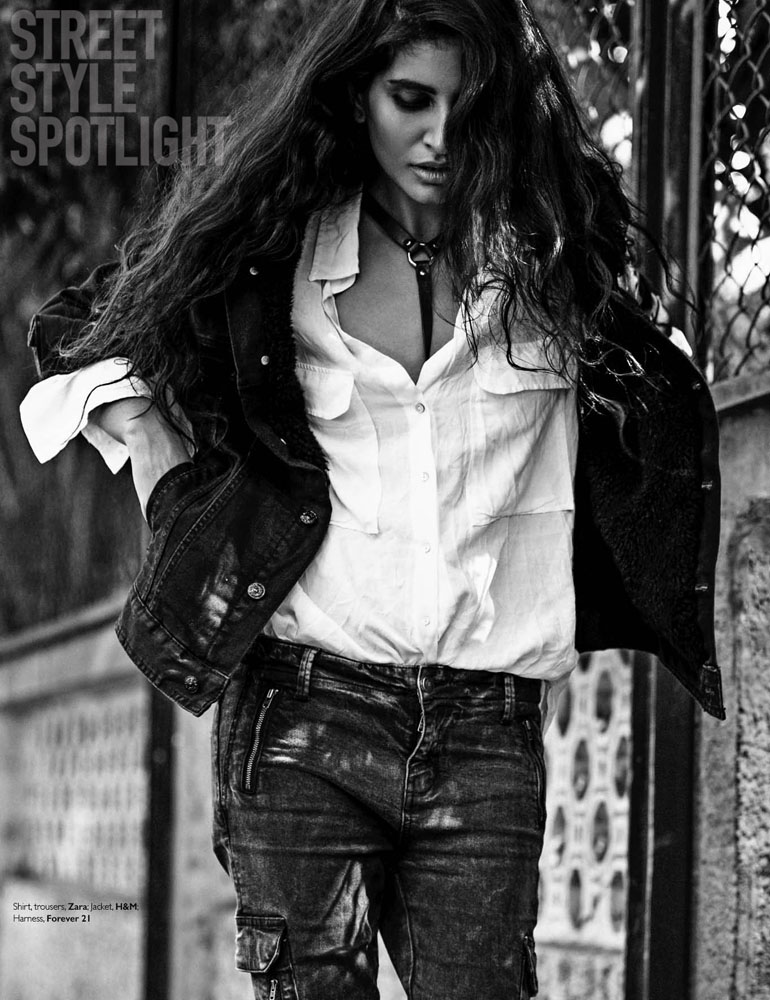 HAVE YOU EVER BEEN COMPARED TO GUYS? Or is that a thing of the past Actually, it's always been the other way around. The boys world over have forever been very encouraging. The two biggest support systems I have are my best friend and mentor, Rishaad Mody and someone I treat like my little brother, Ishaan Bhataiyya who's an avid biker himself and is the boy behind all those magical photos. I'm constantly being egged on to ride more and not be afraid of the unknown. On the other hand, yes I've had exactly two people write about me, detesting me for what I do. What I gathered from their pieces is that "If I were a true girl biker, I should've had snot running down my face and not looked so pretty whilst riding a motorcycle". Because apparently snotty faces make for serious motorcyclists!
IF YOU HAD TO CHOOSE BETWEEN A BIG MODELLING GIG AND A BIKING TRIP THAT COINCIDES Depends on what sounds more exciting to me at the time. I'm moody like that. Also, depends on how broke I am.
BEST THING THAT HAPPENED TO YOU IN 2016: Two things actually. A. Ducati India invited four people to the World Ducati Week in Italy. All expense paid trip, ride a Panigale 959 on a MotoGP spec race track, meet the biggest names in MotoGP, ride as many Ducatis as you want, party on the beach, the works basically. I was one of the four! B. My 200 ft fall enroute Ladakh.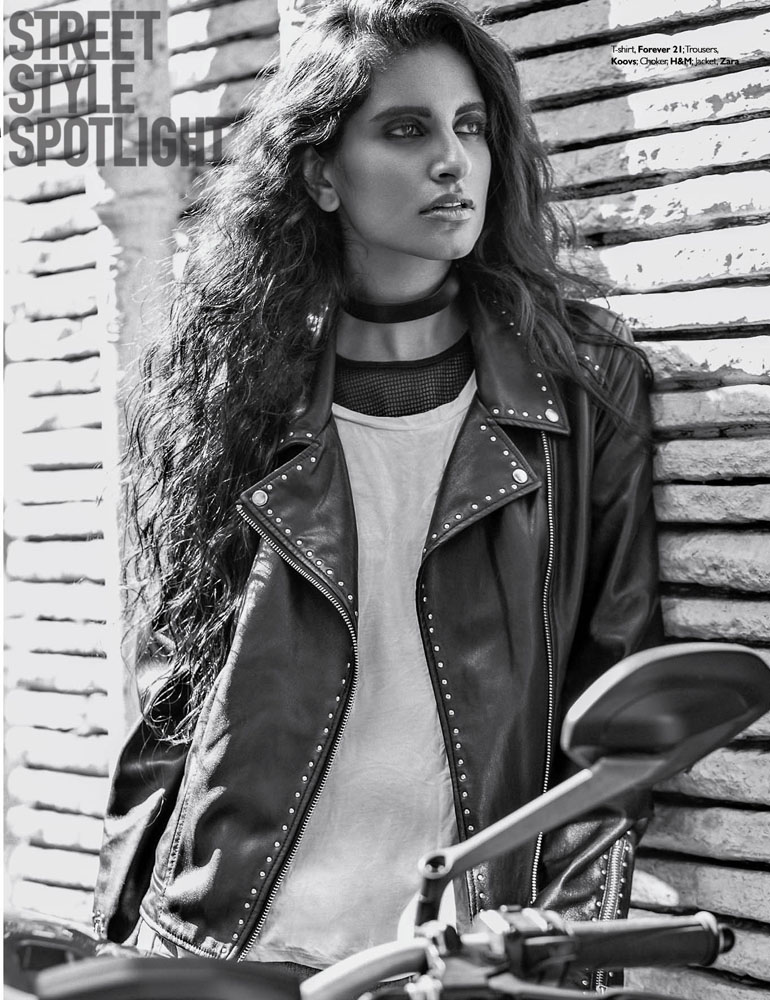 YOU ARRANGED A DUCATI FOR THE SHOOT AT A VERY SHORT NOTICE. What is your history with these brands, when did they start noticing I share a wonderful rapport
with pretty much every motorcycle manufacturer out there. Every time they launch a new motorcycle, they give me the privilege of riding it and giving them feedback. I've been associated with Ducati, Triumph, Harley Davidson, Royal Enfield, Aprilia, KTM, Yamaha and many more since I started @bikewithgirl a year ago. It was new to almost every manufacturer, what I had in mind for their motorcycles and they've since been extremely generous with their motorcycles.
WE ALSO NOTICED PEOPLE COMING UP TO YOU AND TAKING PICTURES WITH YOU AND TELLING YOU THAT THEY FOLLOW YOU Ha! It still surprises me when people walk up to me NOT to remember that I starred in a certain print campaign but because they saw me ride one of their dream motorcycles on my instagram. It's a fame I am still very awkward about. Apparently, I have fans now, not because they remember me hoola-hooping in a Coke ad but because I was riding a Ducati Panigale 959. Also, I gathered 85k followers in 12 months with 288 posts. I must be doing something right.
HOW DO YOU KEEP THEM ENGAGED I started @bikeiwithgirl as a personal fun album on instagram to remember what motorcycle I rode at what point in my life. But it picked up like crazy and before I knew it I had "followers", people who wanted to see what I was riding, how it rode and whether they should buy it? I get over 50 messages from my followers everyday and I'm so terrible at replying to them all. So apart from engaging with 85,000 of them via Instagram & Facebook posts, I now snapchat and Instastory videos of my life around the motorcycles I ride. Hopefully, I'll start well-cut, crisp, short video content soon. I still don't consider myself a name to reckon with. I'm just a girl that loves riding motorcycles. I don't discriminate between motorcycles. I just ride.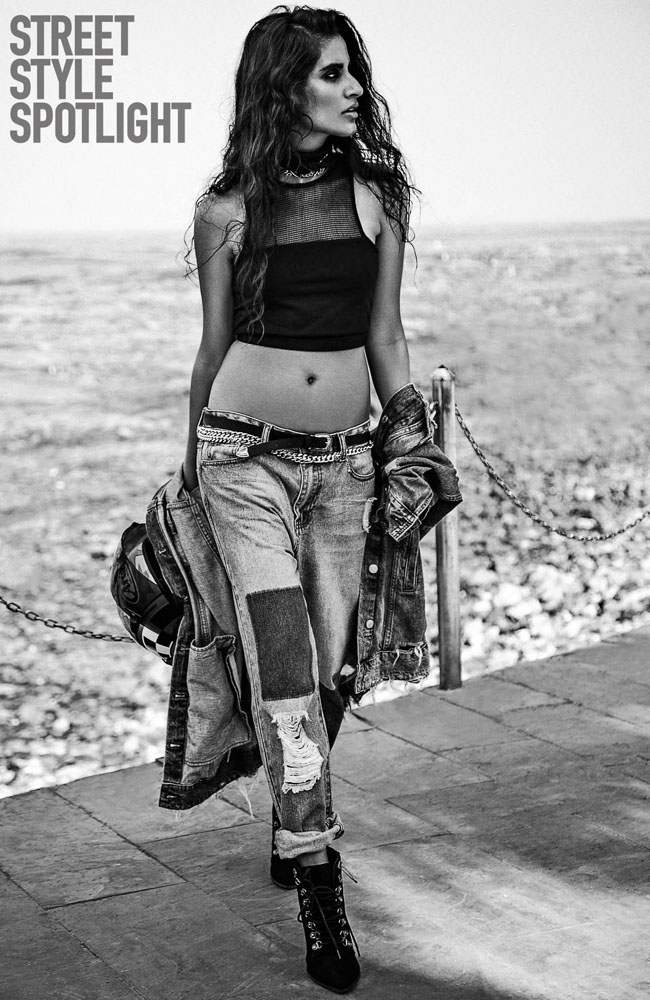 YOU ALSO SEEM TO BE VERY FREE SPIRITED AND COOL, EASY TO TALK TO AND SHOOT WITH. Without any comparison to other models, has biking and travelling changed you Biking has changed my outlook towards the world, yes. But ask anybody that knows me as a just a model too and they'll tell you that I'm a boy that can talk to just about anything with anybody. I talk to my motorcycles all the time! I also feel like the more you talk to people, the more experiences you've gained. Plus, I'm forever high on life.
A QUOTE THAT YOU LIVE BY As Shubhabrata Marmar of Overdrive Magazine once told me, "If you get on a motorcycle, be prepared to fall off it." It's a line that has just stuck.
DOES YOUR FAMILY WORRY ABOUT YOU WHEN YOU HIT THE ROADS Oh, all the time! My family still doesn't know about my 200ft fall. They're not very comfortable with me even doing Bombay-Pune which is only 150 odd kilometers. I have to keep bits and pieces of my biking life from them so that they can live in peace. Because let's face it, crashes happen all the time.
Hair and make-up: Rashmi Shastri