1 Classic Shirt, 2 Stylish Girls. 7 New Ways To Wear It
IT WAS AT A RECENT FASHION WEEK, AMONGST A HUNDRED FASHION FACES THAT WE NOTICED TWO YOUNG GIRLS, STANDING TALL AND QUIRKY IN THEIR 'SELF RE-CREATED' OUTFITS. MEET FASHION BLOGGERS DOLLY SINGH OF @SPILLTHESASS AND CHARUTA YADAV OF @MODAYALDA. WE ASKED THE LADIES TO DO THE MODAYALDA-DO-DA-TA-DA AND SPILL SOME SASS INTO THE CLASSIC, SOMETIMES BORING, YET CAN'T-DO-WITHOUT WHITE SHIRT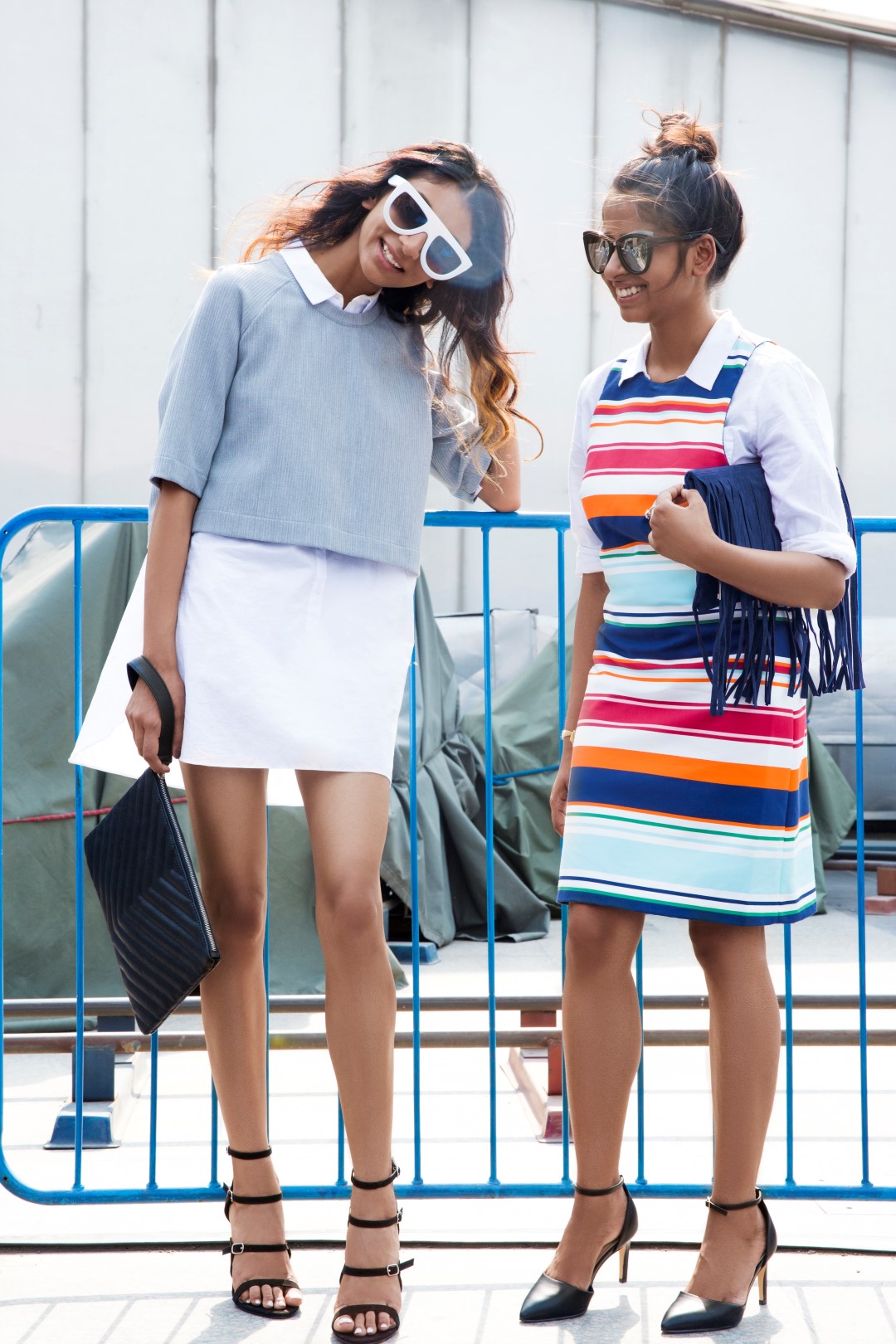 1
INTRODUCE YOURSELVES IN THREE LINES
C: I am a post graduate in genetic engineering. I love fashion and art. Fashion is art and I wear art.
D: A girl who palpitates at the sight of good shoes. French fries and waffles are my weakness and Pinterest is my life.
2
WHERE ARE YOU DELHI GIRLS FROM AND AGE, IF YOU DON'T MIND?
C: 24, Kanpur.
D: 23, Nainital.
3
WHAT IS YOUR SIGNATURE STYLE?
C: I am bipolar (does the term exist?). One day I am all bohemian and the next day I am all minimal.
D: Street style with hints of androgynous and bohemian fashion.
4
HOW MUCH DID YOU INVEST ON THE BLOG?
C: For the website, ₹ 4,000 and that is just the main thing you need. The rest was quite an investment.
D: A lot.
5
FIVE THINGS YOU NEED TO START OFF AS A BLOGGER?
C: Original concept, basic equipment (laptop and camera) and a lot of clothes. Figure out what sets you apart from what is already there and build contacts.
D: An idea of who you want to be and what you want to portray through your blog. If you want to be a part of the herd with no new ideas, you will soon fade away. Also determination. Plus, material things like outfits, a good camera (or a friend who has one!) and a laptop are definitely important.
6
AND YOU HAVE MADE?
C: Not much. Yet.
D: Just a few thousands.
7
WHAT WAS YOUR FIRST ASSIGNMENT?
C: I did a review for a website and I earned ₹ 1500.
D: It was with this brand called 99hunts, I made ₹ 1,000.
8
WHAT DO YOU LOVE ABOUT DELHI?
C: Food, heritage & FLEA MARKETS!
D: People's willingness to accept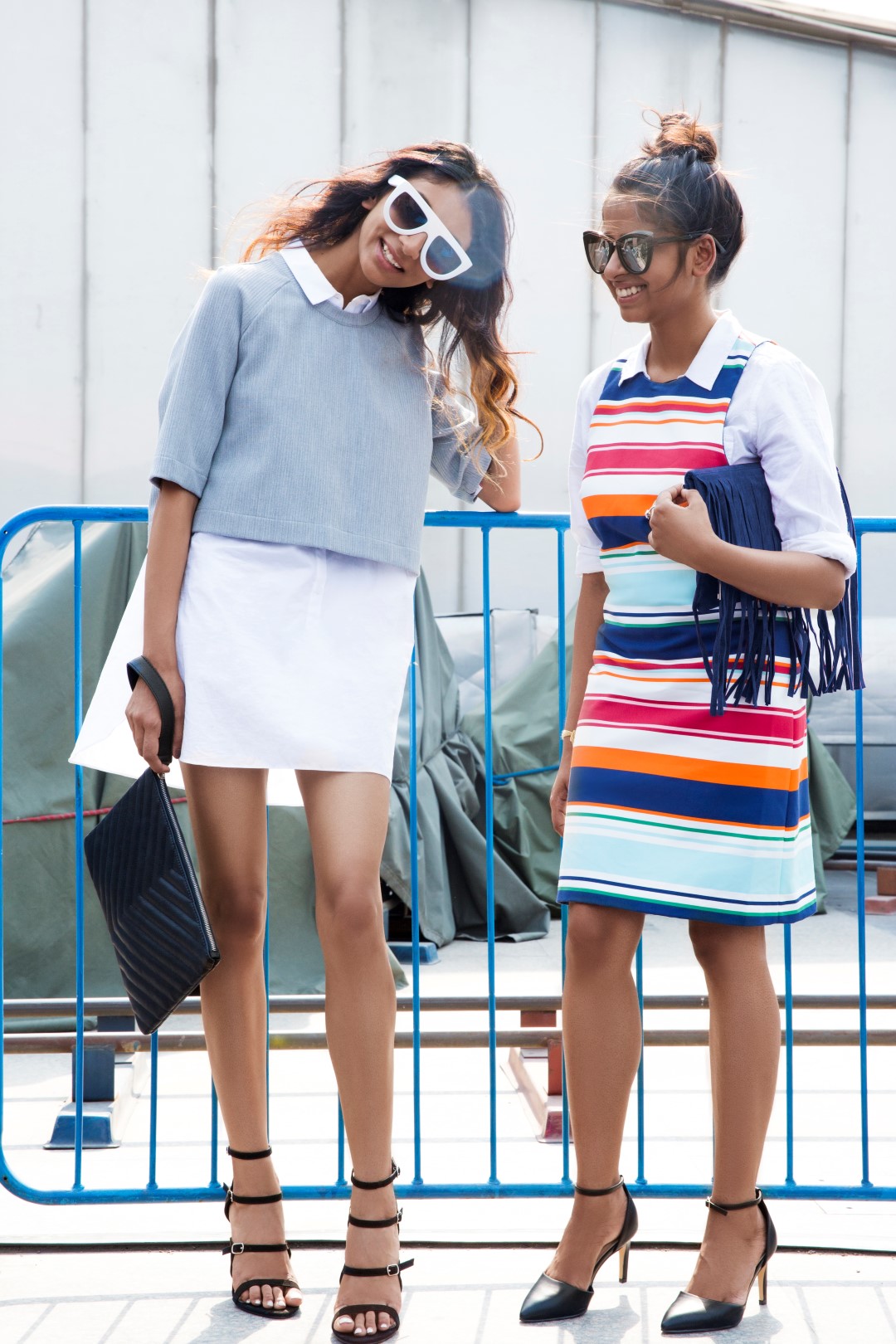 9
HOW DO BLOGGERS INFLUENCE THE INDUSTRY?
C: With bloggers coming onto the scene, people have become more experimental with their fashion choices. We connect directly to people. Glossy magazines with celebrities in high-end designer wear do not resonate with everyone.
D: Bloggers are the new trend setters and are more in touch with people than anyone else in the industry. We matter a lot. The two need each other to grow. Without bloggers the industry is incomplete and without the industry what will bloggers be a part of. The industry is our abode.
10
GIVE US AN ORIGINAL LINE
C: Fashion is art and I am an artist.
D: Pick yourself up. No one is coming.
11
HOW LONG BEFORE WE SEE BLOGGERS ON COVERS OF  'POPULAR' MAGAZINES?
C: We are close. In one or two years.
D: Internationally, it's been done already. Here, we have to wait.
12
INDIAN BLOGGER TO FOLLOW?
C: Aien Jamir of Fashion and I.
D: Rhea Gupte of Fuss.
13
WHAT'S BEHIND THE NAMES?
C: Moda means birth/daughter in Hebrew and Yalda is Spanish for fashion. So it is 'fashion's birth' or 'fashion's daughter'.
D: My best friend asked me what is it exactly that I wanted to do through my blog. I said that I want to spill all the beans regarding affordable yet bold and quirky fashion. And there we had it. "Like you spill
the beans, I spill the sass"!
14
HOW ARE BLOGGERS TREATED BY THE INDUSTRY?
C: We are well received. But brands need to know that blogging is a job and we need to get paid for the work we do. The dress you give us doesn't buy food.
D: If you are good at what you do and you stand out, then you are treated well.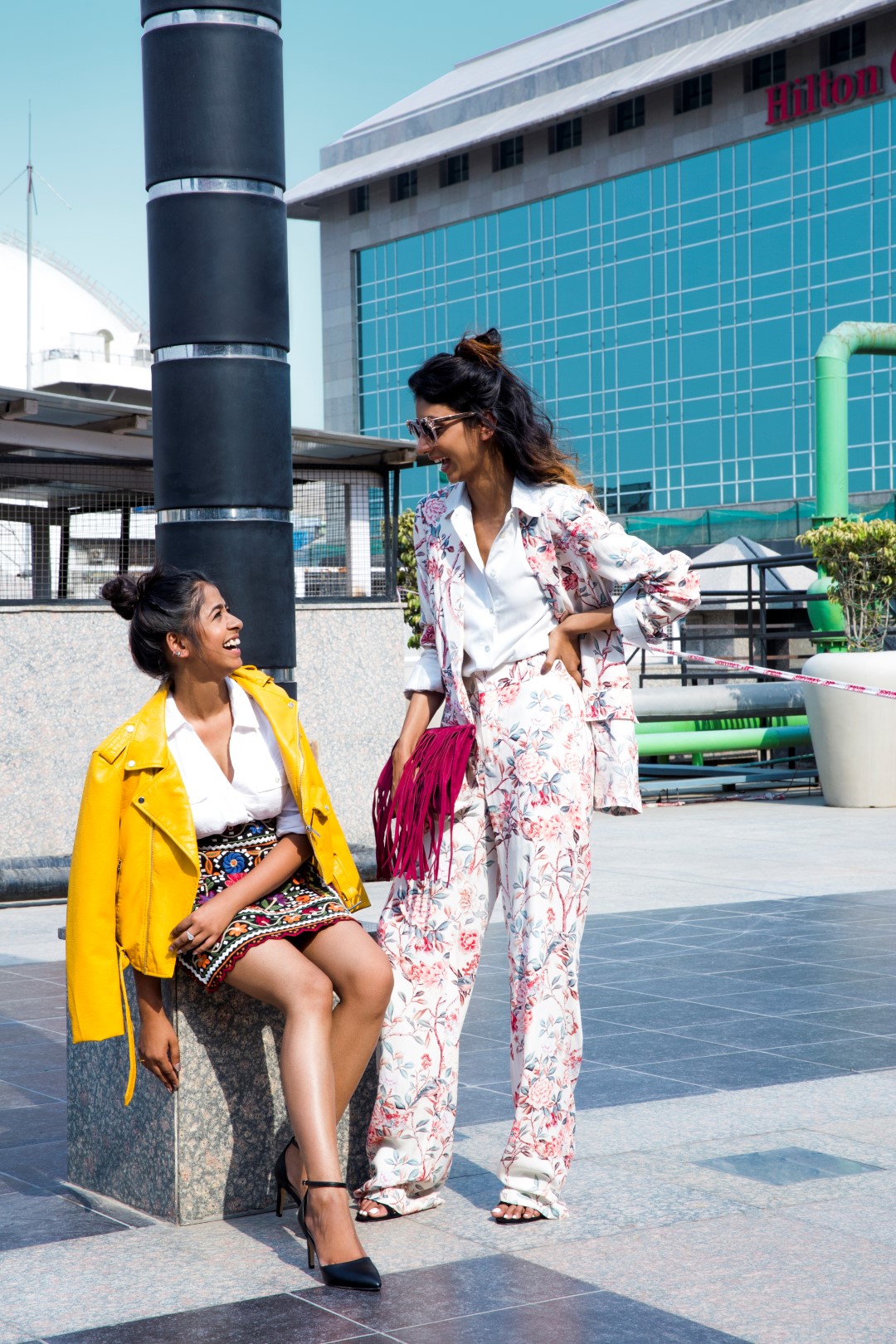 HOW SOON DOES A BLOGGER START MAKING MONEY?
C: If you opt for paid reach, you can start as soon as 6 to 8 months and up to a year if you want to grow.
D: First of all, you should only get into the field if you're doing it for the love of it and not the perks. There is no definite number. Although it is sad that brands focus mainly on your numbers. I have been blogging for over a year and commercial collaborations are still few.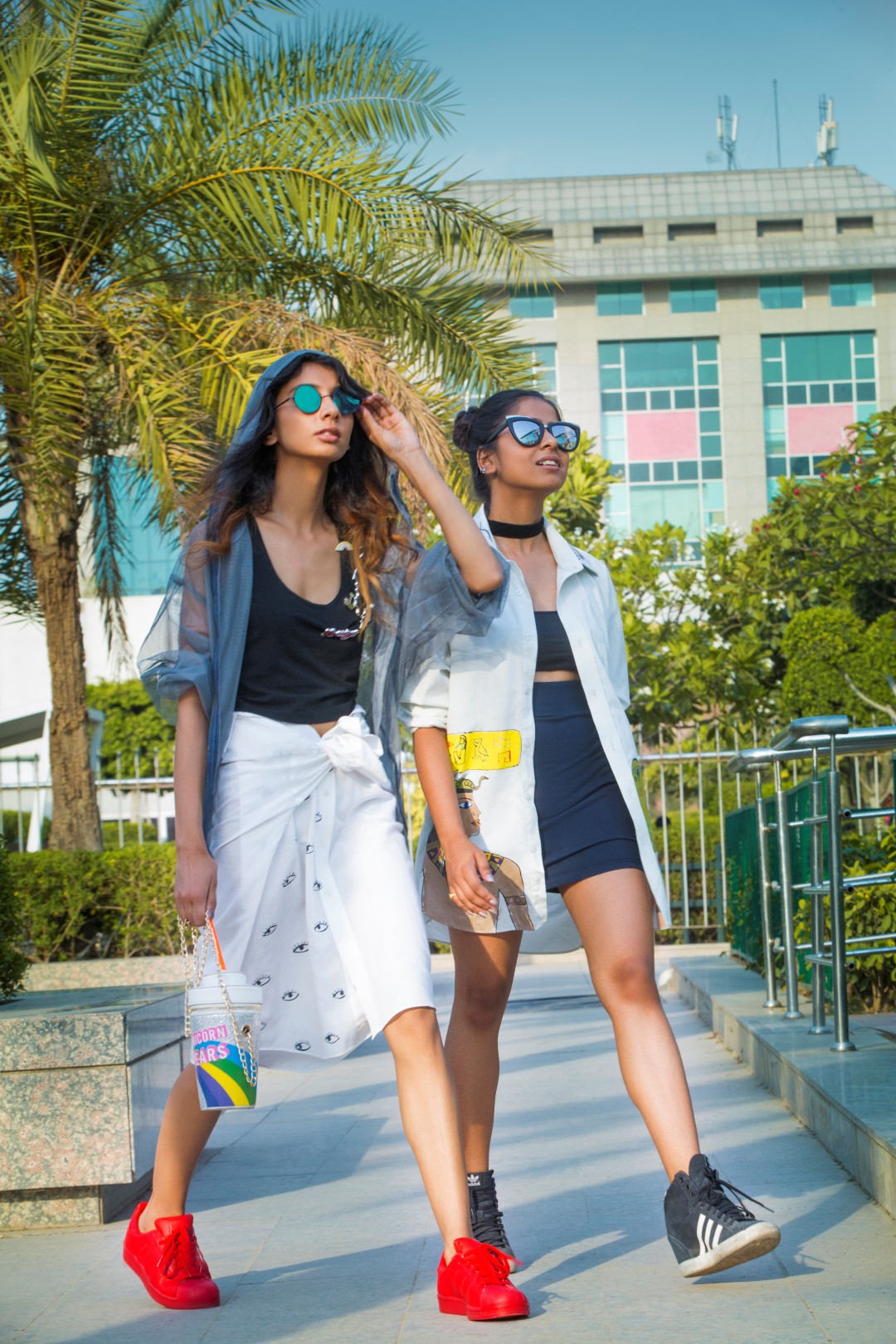 15
WHAT DO YOUR FOLKS THINK?
C:  They were super excited when I started out. My parents are the most fashion forward adults I know. They love it and appreciate my efforts.
D: My parents are not exactly aware of what it's all about. But they did feel I was wasting my time and they think I should dress more appropriately. I don't blame them at all.
16
HOW DO YOU STAY UPDATED?
C: I am an old school girl. I love print magazines and Instagram.
D: Pinterest.
17
BRANDS YOU LOVE?
C: Zara, Forever 21 and Anokhi.
D: Forever 21, Topshop and Balmain.
18
DO YOUR RELATIVES GET WHAT YOU DO?
C: They don't get it. So I just tell them that I put pictures of my outfit on the net. 😛
D: I try and explain but if they don't follow what I'm saying or judge me, I leave it at that.
19
A QUOTE THAT INSPIRES YOU?
C: "Life isn't about finding yourself. Life is about creating yourself." It's a quote by Irish Dramatist
George Bernard Shaw.
D: Robert Frost, "Two roads diverged in a wood, and I – I took the one less travelled by and that has
made all the difference."
20
ONLINE SHOPPING OR MALL VISITS?
C: Mall visits. Nothing beats the feeling of trying on the clothes and finding the prefect piece. It is an experience, a moment.
D: Online shopping.
21
LESSONS LEARNT YET
C: Working hard is not the ONLY thing that will get you forward.
D: Life doesn't stop.
22
WHEN WOULD YOU CONSIDER YOURSELF A SUCCESS?
C: When I would be able to sustain entirely on blogging and styling.
D: The day I am content with my life.
23
FAVOURITE AFFORDABLE ONLINE STORE?
C: Koovs
D: Jabong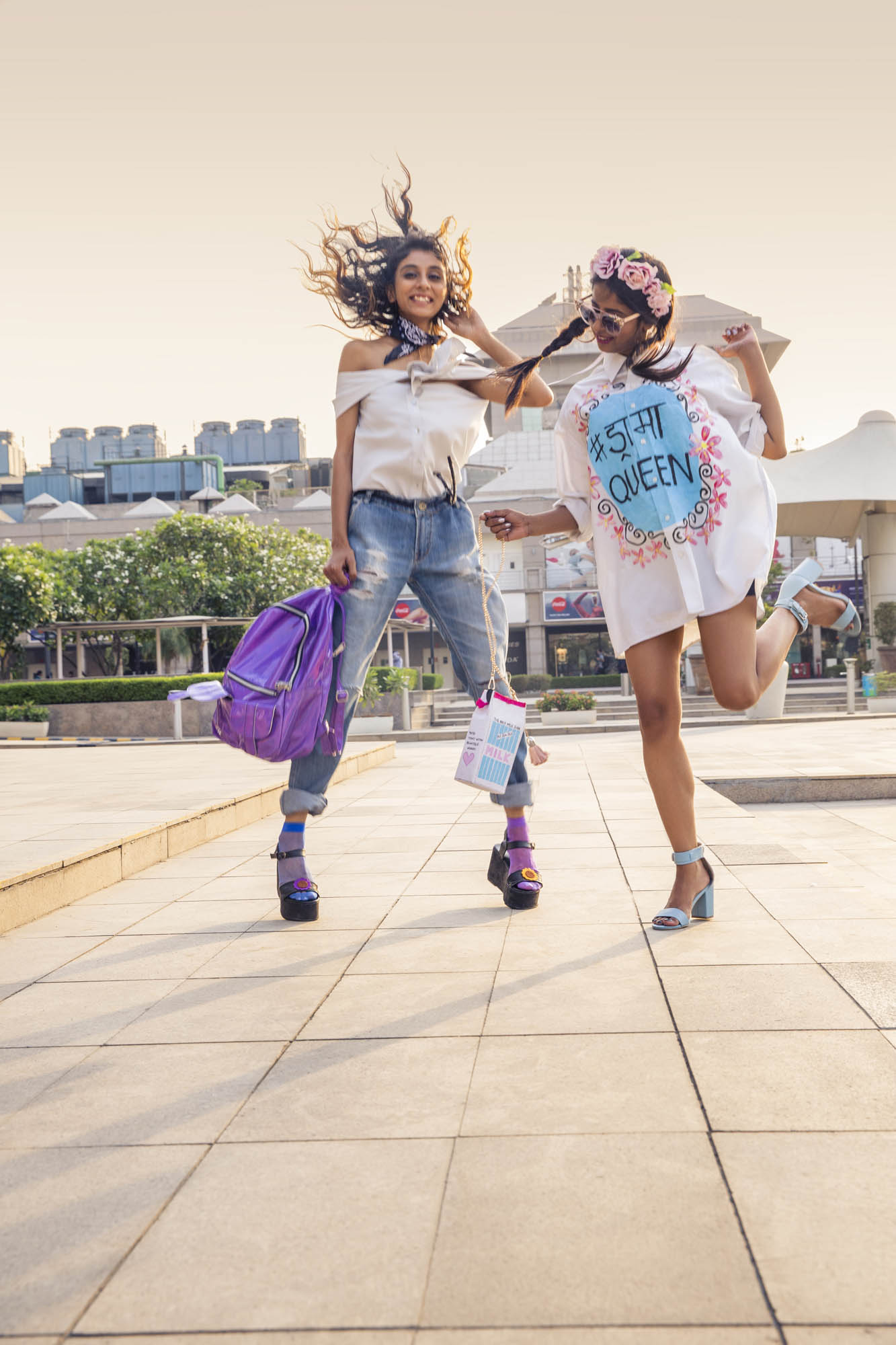 Photographer: Sagar Khiwal